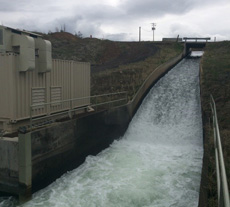 April 13, 2017:
The 45 Mile Hydroelectric Project's third season has gotten underway, delivering renewable energy to Oregon's power grid for another year. The North Unit Main Canal began flowing sufficient levels of water at the 45th mile of the canal that the turbines began spinning on the 13th of April. With the high efficiencies of the unique turbine technology and a promising year for water, we're very excited about this year's possibilities!
June 27 - 30, 2017:
This year's International Hydrovision conference is getting ready to start in Denver, Colorado! This year, new keynote speakers and new topics will be presented to the public include Lieutenant General Todd T. Semonite, Chief of Engineers and Commanding General of the Army Corps of Engineers, Dr. Kristina Johnson, CEO of Cube Hydro, and many others!
January 9, 2017:
Water, water, and more water! 2016 - 2017 rain and snow falls left record breaking amounts of water to support an otherwise dry 2017. Read more, here ....